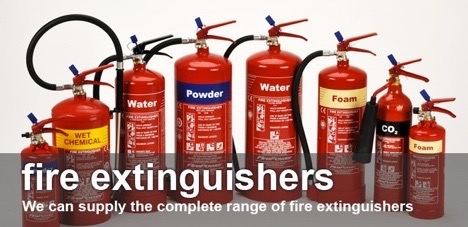 Water 9L                        £31.84                  Foam AFFF 6L           £33.88
Foam AFFF 9L               £34.95                  ABC Powder 2kg        £23.28            
ABC Powder 3kg            £31.22                  ABC Powder 4kg        £31.22
ABC Powder 6kg            £34.64                  ABC Powder 9kg        £38.56
Co2 Refurb 2kg              £29.59                   Co2 Refurb 5kg          £39.45
Co2 New 2kg                  £38.80                  Co2 New 5kg              £76.77
Wet Chemical 3L            £96.20                   Wet Chemical 6L       £110.25
All Prices shown are inclusive of vat. Supplier delivery charge is £12.00 for any amount ordered.
So please add this delivery charge to your order!
Selecting the right method of fire fighting equipment gives your company the best chance to contain a fire before it develops into a major incident, saving both lives and property ... and possibly even the future of your business. A1 Solutions Security & Fire  can provide the best fire-fighting equipment for your business risk.